Seven Stars – why I won't pursue in 2018
Ok, so the main reason is I don't intend to be in Nevada where I can play WSOP.com as much as the previous years, but that by itself may not have dissuaded me as even in 2017, I was out of the state about three months and will still achieve Seven Stars.
Terrible host
The host attached to my account is beyond terrible, even to the point I don't even bother to ask him to book anything. I now call the property and ask to speak to a host onsite any time I want to book a benefit. This just kinda soured my whole desire to be Seven Stars if I'm not even going to be treated like a Seven Stars.
I wrote an article earlier in the year about this.
Achieving it in 2019 may not miss any benefits
Because of how the benefits are awarded for the Seven Stars program, I will be able to use the Seven Stars benefits for 2018 even if I don't end up earning the status. After February 1, 2018, the new benefits will load and even though I've only earned the status 2 years in a row, I will be able to use the benefits 3 times.
If 2019 looks to be spent mostly in Nevada, I can use what I learned earning Seven Stars for the first time.
Read: Seven Stars – Alternating Years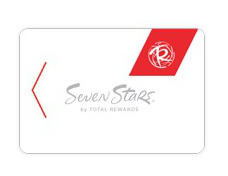 Achieving it will be more difficult
In the last two years, Total Rewards has made it difficult to earn bonus tier points by removing certain promotions and free points like the 10k credit for earning Diamond Aspiration II and the spring tier bonus I took full advantage of in 2016.
Fortunately, they still have the year-end bonus and I hope they don't remove that for 2018.
Video Poker not my thing
To earn Seven Stars in 2018, I'd probably have to make up about 75k tier score with Video Poker. I was able to earn 100k with WSOP in 2017 which will probably drop as low as 60k in 2018 and with the absence of any tier multipliers besides the year-end bonus, it would leave 75k. Of course, I'll have to find some way to earn the 5k for Diamond Aspirations II.