Diamond Aspiration II: How I got $2452 in value from my last one!
My last Diamond Aspiration II…
I suppose it wasn't all bad news about Total Rewards and Seven Stars this winter. I'd done a fair bit of traveling in 2017, both in the Total Rewards suit of properties and elsewhere, so my 2017 Diamond Aspirations had remained unused when I got the news it would be the last year to include them. I did, however, receive this email: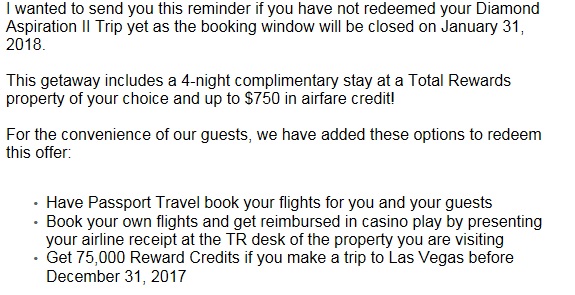 I discovered I could convert my $750 airline credit to 75,000 in Reward Credits. Well, since I won't be focusing on Total Rewards next year and in general have a bad taste in my mouth about them now, that seemed like a good deal.
I would say I got full value for my Diamond Aspiration II. For the 2-night Las Vegas Suite stay, I had managed to book it online at the Cromwell for Dec 30 & 31, a $1200 value.
I emailed my host, who booked my 4-night hotel stay at Paris for Dec 26 – 30. So, I had 6 nights on the Las Vegas Strip during the most popular time of the year. Value: $600
I approached the Total Rewards booth, Seven Stars card in hand, and asked for my 75,000 Reward Credits and though she had to call a manager since she'd never heard of that option before, 48 hours later, I had 75,000 Reward Credits in my Seven Stars account.
I didn't use the Paris suite a ton and took advantage of an option to forgo maid service for $10/day in food comp. My total food bill at Paris was $8 which I used the Reward Credits on. Value: $38
Then it was on to Cromwell, arguably the most exclusive hotel for New Years Eve being center strip with the popular Drais nightclub.
I allowed myself one dinner at Giada at the Cromwell using part of the Reward Credits. Value $66.
I went wrong with the Pasta flight entree.
For the rest of my meals, I used the Diamond Lounges at Caesars and Flamingo, as well as some snacks I brought to the room. At the Flamingo on Dec 31, they had the best food selection I'd ever seen in a Las Vegas Diamond Lounge, comparable to the selection in Atlantic City Diamond Lounges. With the news the Diamond Lounges will go to a 25k point requirement in 2018, perhaps the better selection will be the new normal? We can hope.
Then I saw fireworks from the strip for only the 3rd time in my 2 decades in Las Vegas. Hopefully the last time. The smart locals go to Rio or Palms or another vantage point where you can see them all. Yawn.
Couldn't bring myself to play live poker during my NYE. There's just something excruciating about sitting at a poker table anymore. It's like going to the biggest party in the country and choosing to do your job.
The next morning, I went to the Cromwell cashier and converted $625 Reward Credits to $500 in free play and took it to the best quarter machine I know of in the Total Rewards properties in Las Vegas. They cut the points you earn on it significantly, but that didn't matter as I don't intend to earn Seven Stars again and WSOP will handle getting me to 25k for Diamond Lounge access. Anything in between would be silly since there are no more Aspirations. Value: $495
I did it after 6am when Total Rewards resets the day, just in case I hit a royal. Would rather start the year out right than find myself with more taxes to pay in 2017. I ran bad instead… taking home only $442.
So, my total value for my last Diamond Aspiration II was $2452
I still have about $33 worth of Reward Credits left which I'll put toward my Diamond Aspiration I stay that I have planned for Southern California. Why SoCal? Well, Tahoe gives me rooms anyway so I won't use it there, and it's close to Mexico. Pop down there and play some Poker Stars!